Waitākere Ranges heritage area 2017-2022. Five-year monitoring report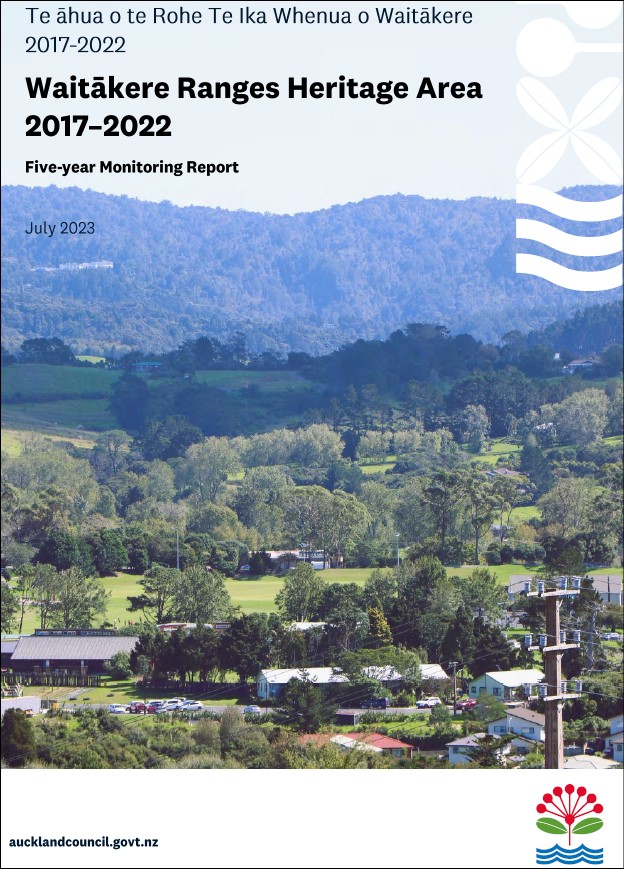 Author:
Auckland Council Plans and Places
Source:
Auckland Council | Waitākere Ranges Local Board
Te āhua o te rohe o te ika whenua o Waitākere 2017-2022
Extracts:
Introduction
Seeking to understand and acknowledge an entire system, with the interconnectedness and interrelationship of all tangible and non-tangible things, is the challenge and opportunity laid down by the Act.
Structure
This is a synthesis report which summarises progress towards achieving the objectives of the Act.
Five interconnected topics summarise changes since 2017, funding, resourcing and background
Topic 1. The funding impact from activities undertaken to give effect to the Act
Topic 2. Kaitiakitanga, community stewardship and past and present human culture
Topic 3. Landscapes, landforms, and land use
Topic 4. The heritage area as both a wilderness area and public place 
Topic 5. State of the environment ...
Report conclusions and summary of changes
An extraordinary period of time
This report takes place in the context of an extraordinary period of time for the heritage area.
Flash flooding in 2018 and 2021 impacted coastal and foothill areas. Roads, homes, and buildings were destroyed. Unprecedented restrictions were put on water use in April 2019 after two of the driest summers on record, while the five heritage area dams reached a historic low.
Over 2020/2021, periods of COVID-19 pandemic lockdown impacted residents and had wider effects on council and other budgets. Many walking tracks were closed from April 2018 as part of a precautionary approach towards managing the spread of kauri dieback, and in the regional park, visitor counts taken at 491,000 in 2011/2012 had increased to 1.282 million by 2021/2022, putting pressure on the infrastructure that supports those visitors.
These events have highlighted the vulnerability of the road and water-supply network, homes, communities, and the natural environment.
Despite this, there has been positive progress towards achieving the outcomes of the Act, noting that the success or otherwise of some activities is subject to differences view, and that the achievement of one objective does not always assist in achieving other objectives.
Auckland Council, July 2023
Previous reports
State of the Waitākere Ranges heritage area 2018