Perceptions of living in Auckland's city centre: 2022 residents' survey technical report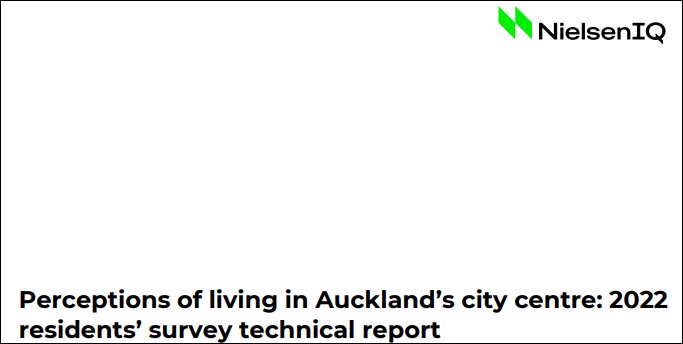 Source:
NielsenIQ | Auckland Council Research and Evaluation Unit, RIMU
2022 residents' survey technical report prepared by NielsenIQ for Auckland Council.
Extract:
1. Introduction
1.1 Background
Auckland's city centre is a significant centre for entertainment, commerce, education and trade, and home to over 30,000 residents.
There have been significant changes in the central city, since Auckland Council last undertook a city centre resident survey in 2016. Key changes include:
Completion of some major city centre infrastructure projects
Opening of newly improved public spaces, such as Te Wānanga, Te Komititanga, Karangahape Road and new spaces across the Wynyard Quarter
Partially completed projects that include the multi-year City Rail Link (CRL) project which continues to impact on residents and businesses in the inner city.
In addition, the COVID-19 pandemic has impacted the way people live, work and engage with the city centre. Lockdowns, a halt to international tourism and reduced flow of international students to the inner city, along with the closure of office buildings and university campuses have put huge pressure on local businesses and resulted in an unexpected surplus of city centre accommodation.
Hence Auckland Council undertook this survey to understand the living experience of city centre residents in 2022.
1.2 Objectives
The overall objective of this survey was to provide an updated understanding of residents' experiences of living in the inner city.
Areas of investigation included:
Reasons for living in the city centre
Likelihood of living in the city centre in 12 months' time
Perceptions of inner city living, including sense of community, ease of living, affordability, child friendliness
Satisfaction with different aspects of inner city living, including safety and security, ease of moving around the area, and cleanliness
Impacts of Covid-19 and ongoing construction on residents' lived experience
Suggestions for improving the city centre.
Survey findings will help council further develop its Development Response approach to support residents through construction disruption. The findings will also help in council's development of initiatives to improve customer experience in the city centre, and in the prioritising of the council group's investment in the area. ...
Auckland Council, NielsenIQ, January 2023
See also
Perceptions of living in Auckland's city centre: 2022 survey of residents