Youth not in employment, education or training (NEET) in Auckland: trends June 2011 to June 2021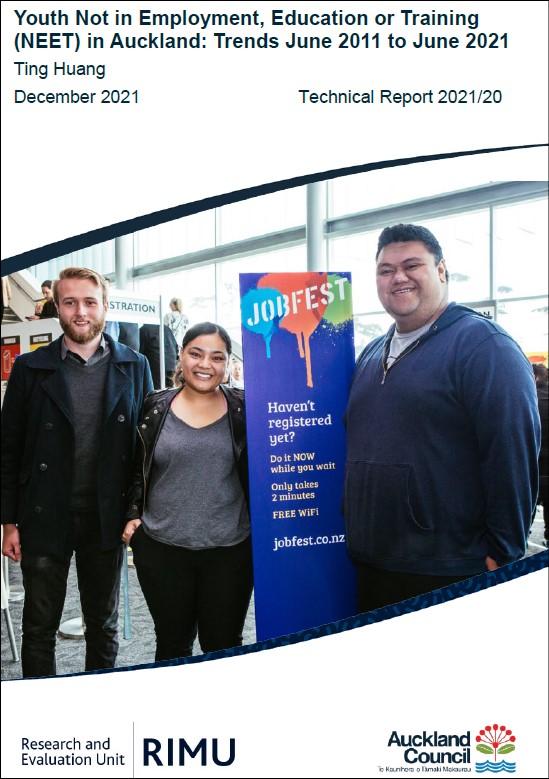 Source:
Auckland Council Research and Evaluation Unit, RIMU
Extract from the Executive summary
Introduction
Young people aged between 15 and 24 who are not in employment, education or training (NEET) are at risk of becoming economically and socially disadvantaged, and have been particularly hard hit by the impacts of COVID-19. Auckland has been disproportionately affected, young Aucklanders have been most impacted by job losses, and secondary attendance rates have declined significantly (Ministry of Education, 2020).
Auckland Council is working closely with its partners to address the issue of youth NEET. In council's recently launched Economic Development Action Plan (Auckland Council, 2021), young people, especially those who are disengaged in the labour market and education, present a community with the greatest need – who are most at risk of socio-economic hardship and most impacted by the COVID-19 pandemic.
This report uses publicly available data from Stats NZ's Household Labour Force Survey (HLFS) to provide an overview of the trends in young people who were NEET in Auckland for the years ended June 2011 to June 2021. It updates the 2018 report titled Youth not in employment, education or training in Auckland (Tuatagaloa and Wilson, 2018), which included data up to the year ended June 2018.
The data measures NEET in two aspects – the number of youth NEET and the youth NEET rate. The NEET rate is the total number of youth NEET as a proportion of the total youth population. Both measures are analysed in this report. Note that at the time of writing, Auckland has been in a major Delta lockdown since mid-August 2021, which is outside the time period of the NEET data covered in this report. Therefore, the impact of the Delta lockdown in the second half of 2021 – which is still yet to be ascertained, is not shown here.
Findings for Auckland
In the year ended June 2021:
there were 32,150 young people aged between 15 and 24 NEET living in Auckland (approximately 40% of the national total) – up from 29,000 in 2018
almost two thirds (66% or 21,125) of youth NEET in Auckland were from the 20-24 age group, with a higher NEET rate (17%) compared to the rate for those aged 15 to 19 (10%) and the overall youth NEET rate in Auckland (14%)
just over half (51% or 16,475) of Auckland's NEET youth were females and 47 per cent (15,675) were males, with a youth NEET rate of 15 per cent and 13 per cent respectively
gender differential in youth NEET rate is more pronounced for the 20-24 age group – 19 per cent for females and 15 per cent for males; the NEET rate among the 15-19 age group was around 10 per cent for both males and females
New Zealand Europeans represented the largest number of youth NEET in Auckland (13,025), but had the second lowest youth NEET rate (11%), after Asian youth (10%)
Māori youth had the highest NEET rate (23%) with a number of 8075 youth who were recorded as NEET
more than 10,000 young Pacific People were NEET with a NEET rate of 20 per cent
over a third (37% or 11,800) of Auckland's total NEET youth were in the Southern Initiative area made up of Māngere-Ōtāhuhu, Ōtara-Papatoetoe, Manurewa, and Papakura local boards, with a NEET rate of 20 per cent
just over 5100 (16%) of young Aucklanders who were NEET were living in the Western Initiative local boards of Henderson-Massey, Waitākere Ranges and Whau, with a NEET rate of 15 per cent. ...
Auckland Council technical report, TR2021/20