Uptempo. Increasing Pasifika 'aiga readiness for workforce progression: Uptempo insights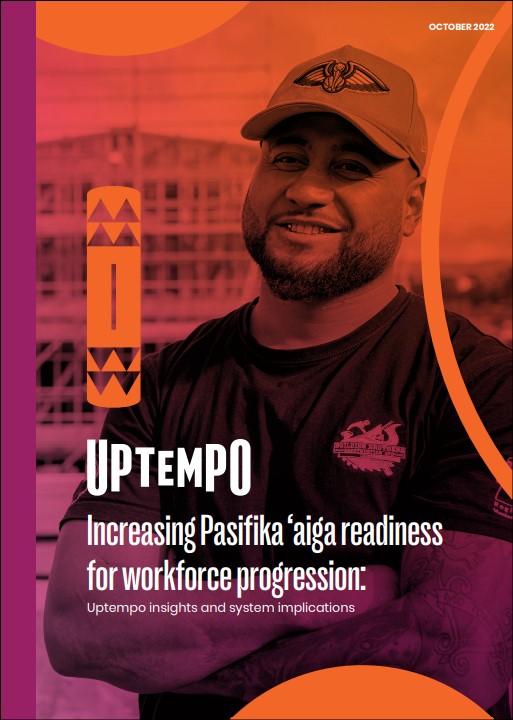 Author:
The Southern Initiative, TSI
Source:
Auckland Council | The Southern Initiative, TSI
What is Uptempo?
Uptempo is a learning incubator that is testing ways to grow intergenerational wealth and wellbeing for Pasifika people in Aotearoa. We work in South and West Auckland with Pasifika families ('aiga) and partner with government to support workforce-wide changes that deliver clear pathways to higher paid jobs.
Uptempo's focus is to learn about how Pasifikacentred workforce innovation can create solutions for Pasifika people to thrive. We bring together innovation practices and the lived experience of
Pacific people to demonstrate changes that will make the biggest difference.
Uptempo is powered by The Southern Initiative (TSI), a social innovation unit nested within Auckland Council. We currently work directly with 80+ 'aiga, The Fono, Oceania Career Academy,
First Union, employers and adult education providers to develop compelling alternatives for Pasifika.
Uptempo is a part of the Alo Vaka, Pacific Skills Shift Programme funded through the Ministry of Business, Innovation and Employment and is also funded by the Peter McKenzie Project (JR McKenzie Trust).
We acknowledge our Uptempo 'aiga for their contribution to this report. Thank you for sharing so generously.
*****
Growing readiness. Our inquiries
In this insights report we explore the following questions:
1. How do we know if an 'aiga is ready or not for workforce progression?
2. What accelerates Pasifika 'aiga readiness to progress in work?
3. How can we make sure our systems are ready to enable Pasifika workforce progression, and intergenerational wealth and wellbeing?
October 2022
See also
Uptempo. Pasifika-centred adult learning to grow intergenerational wealth: Uptempo insights