Tracking Aucklanders' conservation perceptions and behaviours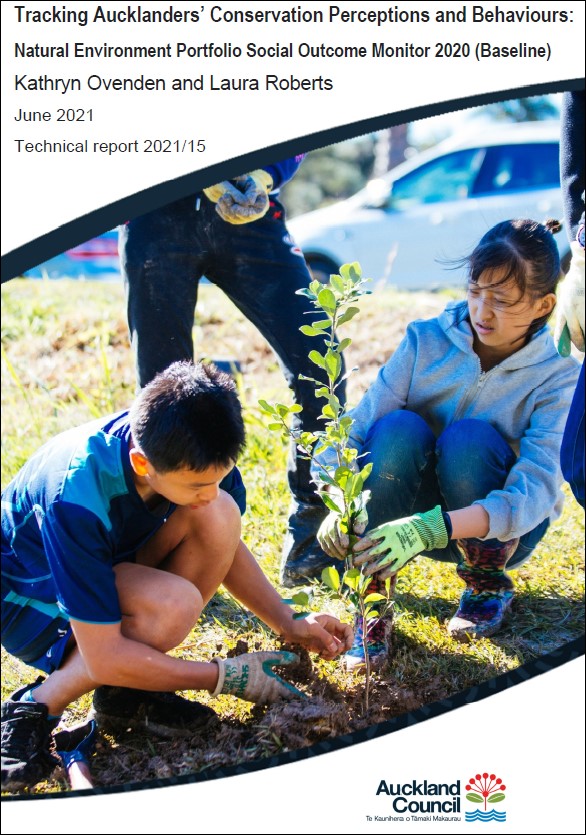 Author:
Kathryn Ovenden, Laura Roberts
Source:
Auckland Council Environmental Services
Tracking Aucklanders' conservation perceptions and behaviours: natural environment portfolio social outcome monitor 2020 (baseline)
Extract form the Executive summary
Auckland Council's Environmental Services Unit delivers a range of biodiversity management programmes. These programmes are funded through general rates, local board funding and from 2018, through the Natural Environment Targeted Rate (NETR). Social outcomes are one area of focus for the Natural Environment Portfolio and the programmes and projects within funded by NETR – alongside ecosystem, species, and Māori outcomes. Social outcomes such as increased conservation capabilities, awareness of conservation, and performance of good biosecurity-related behaviours are shared across programmes in the Natural Environment Portfolio.
This study forms the baseline report in what will become a series of reports monitoring the achievement of social outcomes over the 10-year duration of NETR (ending in 2028). This study involved a survey of Aucklanders administered through Auckland Council's People's Panel which was undertaken in November 2020 and collected 1813 responses. The findings and recommendations are also of relevance and interest to those who contribute towards conservation outcomes outside the Natural Environment Portfolio such as other Auckland Council units, the Department of Conservation, and conservation community groups.
The social outcomes analysed in this report provide a snapshot of Aucklanders' conservation values, knowledge, and behaviours...
Auckland Council technical report, TR2021/15
June 2021