Supporting effective governance in Auckland Council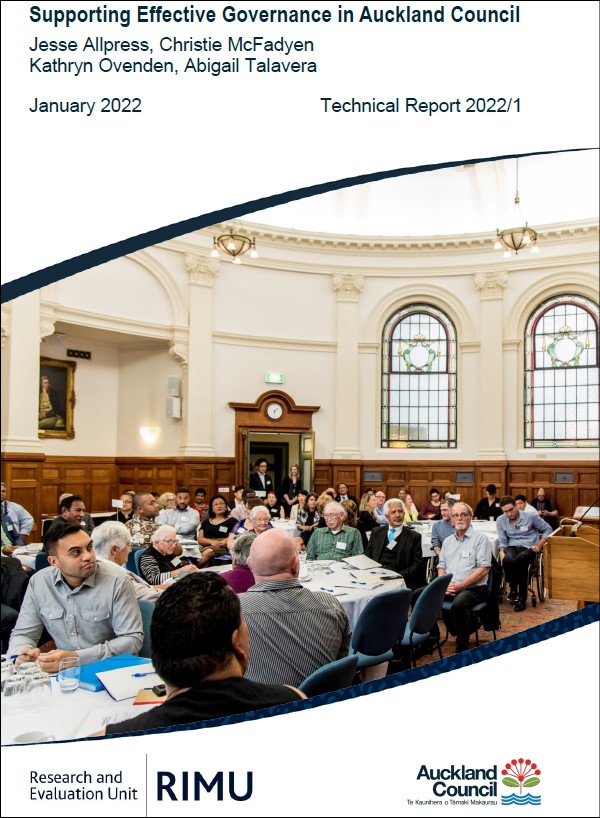 Author:
Jesse Allpress, Christie McFadyen, Kathryn Ovenden, Abigail Talavera
Source:
Auckland Council Research and Evaluation Unit, RIMU
Extract from the Executive summary:
This report focuses on how staff can support effective and accountable governance in Auckland Council and identifies critical components of staff performance for use in building a new performance measurement framework.
It outlines the key themes from interviews and focus groups with elected members and staff on how to best support effective governance within Auckland Council. It also sets out insights on the critical aspects of staff performance that support effective and accountable governance within Auckland Council.
The research is part of the wider Elected Members Research project. The aim of this broader project is to understand how to improve the service that staff provide to elected members, to support members to do their job well. The project also included a headline survey, undertaken in July 2021. The survey monitored trends in elected members' satisfaction with the staff advice and support they received.
The purpose of the present research was to identify:
the staff functions and behaviours that enable elected members to do their job well
any behavioural or other barriers that stand in the way of good governance practices for robust governance outcomes
how best to build and maintain trusted advisory / support relationships between staff and elected members.
The themes identified from this research connect with several other council reviews, including the governance framework review (2015), council-controlled organisations review (2020), and hauora / wellbeing review (2021).
The research also supports other governance-related initiatives including:
Kura Kāwana (elected member development programme)
Quality Advice programme
Governance Fundamentals programme
Elected Members Code of Conduct.
The research was carried out in August and September 2021 by staff from council's Research and Evaluation Unit (RIMU) and Governance Capability team. Twenty-four elected members and 35 staff members from across the council group participated.
Auckland Council. February 2022