Social cohesion in Auckland: results from the Quality of Life survey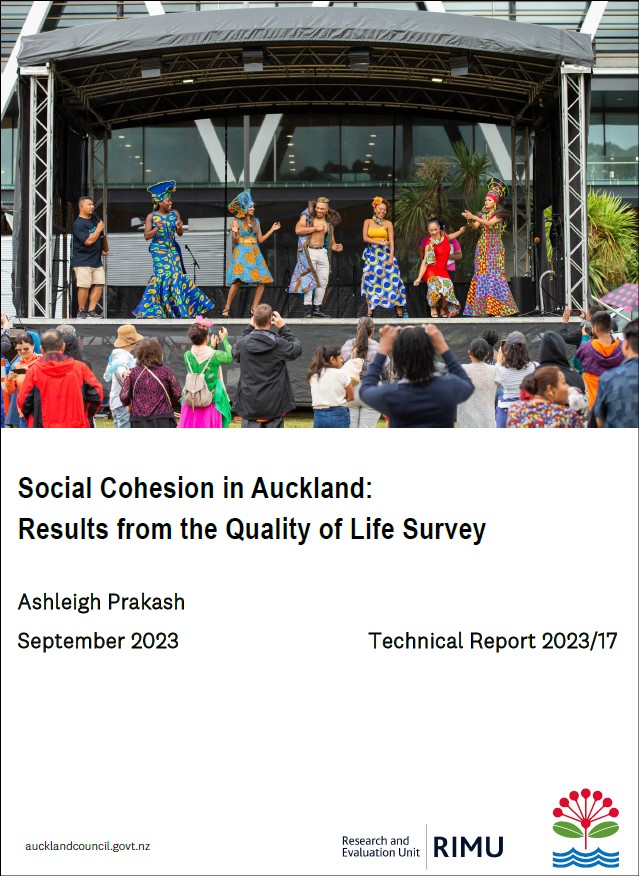 Source:
Auckland Council Research and Evaluation Unit, RIMU
Extract from the Executive summary.
The importance of social cohesion
The world is undergoing a period of rapid and accelerating change (due to factors like globalisation, migration, climate change and natural disasters, and technological advances), with potentially destabilising consequences for the connections binding communities together. Fostering social cohesion in this context is vital to facilitating a unified approach to the challenges we face.
Auckland Council is committed to enhancing social cohesion in Auckland, as outlined in the Auckland Plan 2050 and Ngā Hapori Momoho/Thriving Communities strategy. Efforts to improve social cohesion will help strengthen the ties needed to enhance societal resilience to current and future challenges, facilitate all Aucklanders to participate in society and democracy, and improve Auckland as an attractive place to live for current residents and future migrants.
Although there are many ways to conceptualise it, most definitions (including the one used in this report) adopt five dimensions as a basis for understanding social cohesion: belonging, participation, recognition, legitimacy, and inclusion.
This report
Rangahau te Korou o te Ora/The Quality of Life project is a long-running biennial local government survey in Aotearoa New Zealand that aims to measure perceptions of wellbeing of New Zealand residents and communities in urban areas. Although not specifically designed to measure social cohesion, the survey gathers important information about key indicators (belonging, participation, recognition, and legitimacy) at the individual and neighbourhood levels and, therefore, provides an opportunity to explore differences in perceptions of social inclusion and cohesion.
This report presents results from the 2022 Quality of Life survey and focusses on results for Auckland. The 2022 survey collected data in March to June 2022, from a total of 7518 New Zealanders aged 18 and over, of whom 2612 were Auckland residents.
Data were primarily analysed using a socioeconomic lens, based on measures of material deprivation and self-reported income adequacy. Socioeconomic circumstances are a key driver of social cohesion, as relative socioeconomic disadvantage can lead to economic and social exclusion and weaken social cohesion. In line with this view, analysis focussed on differences based on socioeconomic inequities and their intersections with age and ethnic identification.
Of the 2612 Aucklanders who completed the survey in 2022, around four in 10 (44.9%) said they had enough or more than enough money to meet their everyday needs, and 36.3 per cent said they had just enough money. Around one in five (18.8%) said they did not have enough money to meet their everyday needs. There was a relatively even distribution of respondents living across different areas of relative socioeconomic deprivation across Auckland.
In addition to using results from the 2022 survey, data from previous Quality of Life surveys (2012 to 2020) were analysed, where possible, to understand how perceptions on social cohesion indicators (relating to belonging, participation, recognition, legitimacy) have changed over time, based on socioeconomic circumstances. ...
Auckland Council technical report, TR2023/17
September 2023
See also:
Quality of life survey 2022. Results for Auckland