Reimagining Tāmaki Makaurau Auckland: harnessing the region's potential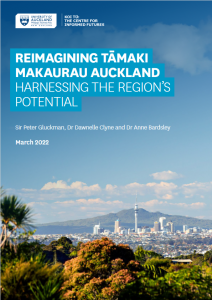 Author:
Peter Gluckman, Dawnelle Clyne, Anne Bardsley, Koi Tū: The Centre for Informed Futures
Source:
Koi Tū: The Centre for Informed Futures, Auckland Unlimited
Extract from the Executive summary:
Imagining Auckland's future: 2070 and beyond
The purpose of this provocation is to encourage open-minded conversation, consultation and debate on where Tāmaki Makaurau Auckland should head and what kind of city it should aim to be in the future – looking ahead over perhaps two generations. It does so by presenting a number of integrated scenarios that challenge the assumptions of current trends, priorities and practices. These nine elements, when considered as a whole, represent the kind of optimistic but plausible outcomes that might be achieved by harnessing the potential of Auckland's many assets, particularly those that are under-appreciated and under-leveraged. Together, these elements describe a view of future Auckland and set the stage for future generations of Aucklanders, with flow-on benefits to the whole of New Zealand. Some suggestions build on existing plans; others suggest bolder moves to reduce inequities in opportunity and access to services and amenities, and to enhance social cohesion, sustainability, liveability and connection to the natural environment, while supporting a thriving innovation ecosystem that powers New Zealand's economy.
The scenarios were developed using well-established futures and foresighting methodologies. They incorporate a wide range of inputs from expert and stakeholder interviews and diverse focus groups, which were structured to capture a range of perceptions, trends and dynamics. This exercise is not intended to replace traditional planning or consultation processes but rather to complement them by promoting conversation about possible transformations that could be made. The vision created does not simply respond to historical or 'predictable' trends but accepts a level of uncertainty as an opportunity to shape the future. In this way, the elements of the interconnected scenarios test common assumptions about the future to inspire innovative thinking and explore better courses of action. ...
March 2022
See also
Koi Tū: The Centre for Informed Futures