Quality of life of older Māori in Auckland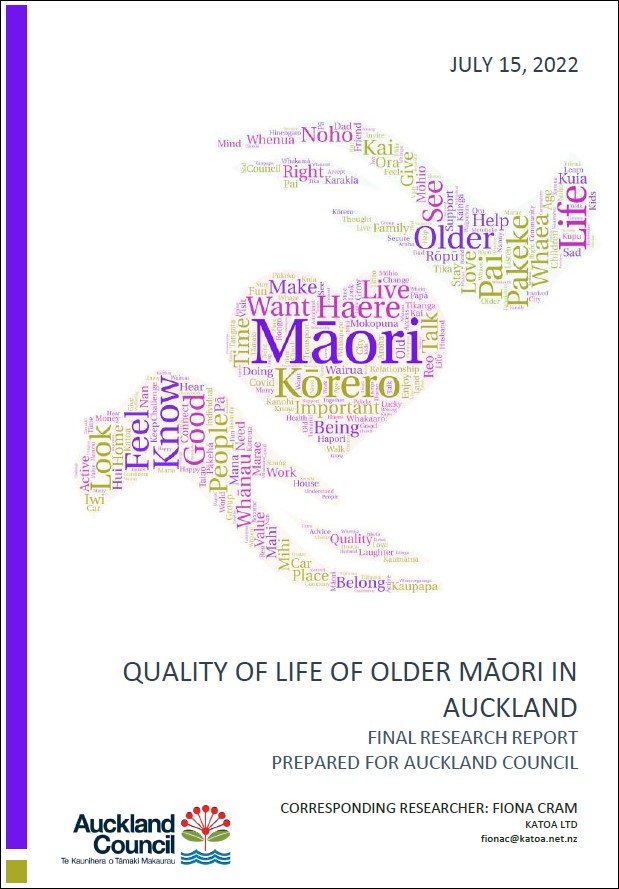 Author:
Fiona Cram, Areta Koopu, Ocean Phillips, Anna Adcock, Ashleigh Prakash, Kathryn Ovenden, Katoa Ltd
Source:
Auckland Council Research and Evaluation Unit, RIMU
Executive summary
In the coming two decades the number of older Māori (65+ years) living in Tāmaki Makaurau/ Auckland is predicted to triple (to around 33,000). Working to ensure that older Māori have a good quality of life is part of Auckland Council's commitment to te Tiriti o Waitangi and its responsibilities as a member of the World Health Organization's Global Network of Age-friendly Cities and Communities. To understand how best to do this, council is undertaking research to inform its strategic direction.
Auckland Council commissioned Katoa Ltd to undertake a small qualitative study of the quality of life of older Māori in Tāmaki Makaurau, guided by a Kaupapa Māori (by, with, and for Māori) distributed methodology. Seven community interviewers recruited older Māori through their networks. Thirty-five older Māori (28 women and 7 men) aged from 60 to 93 years (average=74 years) were interviewed, half of whom described their whakapapa connections to Iwi of Tāmaki Makaurau. The interviews canvassed the personal experiences of older Māori as well as their insights into the quality of life for older Māori in their community. Topics were guided by ngā rōpū (domains) in Tāmaki Makaurau Tauawhi Kaumātua (the Age-friendly Auckland Action Plan). These included participants' views on the role of whānau, wairua (spiritual wellbeing), hinengaro (mental and emotional wellbeing), tinana (physical wellbeing), iwi katoa (activities), and te taiao (environment) in older age.
Findings
Older Māori participants who were Matawaka (not from Tāmaki Makaurau) acknowledged Mana Whenua and had not forgotten where they were from.
They continued to live by the values that they had learned from their tūpuna and worried about being able to pass these and their knowledge on to younger generations of their whānau.
Although maintaining connections with their whānau took a variety of forms, participants expressed their love for their whānau and those they considered to be like whānau.
Younger generations of their whānau supported older Māori to become technologically savvy, with COVID-19 restrictions being the push needed for some older Māori to get on social media.
Community groups supported the social connectedness of older Māori, something participants had missed during COVID-19 restrictions, even though they still felt well cared for.
Participants stressed the heterogeneity of older Māori and their desire to be involved in social groups and organisations that respected them as individuals and as Māori.
Involvement in social, cultural and religious groups provided older Māori with camaraderie and supported their emotional wellbeing. They encouraged older Māori who were whakamā to join in these groups in the knowledge that they would be welcomed.
Challenges experienced by older Māori included isolation brought on by them not feeling valued or listened to, financial insecurity, mistreatment and abuse, and everyday racism.
Discussion
The present study affirmed that a life course approach is needed to understand the quality of life of older Māori in Tāmaki Makaurau. The values they had gained from their tūpuna had supported them to live in Tāmaki Makaurau, including seeing them through times of hardship. Now that they wanted to pass these values on to younger generations, consideration should be given to the creation of opportunities for intergenerational connectivity to support quality of life for older Māori and their whānau. Initiatives to support older Māori who are isolated can also support the quality of life of both them and those who visit with them. The facilitation of social connectedness may also mean connection with affiliation groups that can support their holistic wellbeing. Overall, older Māori wanted to live out their older years as Māori elders who were respected, cared for, and loved.
Published with Older Aucklanders: a quality of life status report, Auckland Council technical report, TR2022/22.
August 2022
See also
Older Aucklanders: a quality of life status report