Mitigating climate change in New Zealand: impacts on Auckland's economy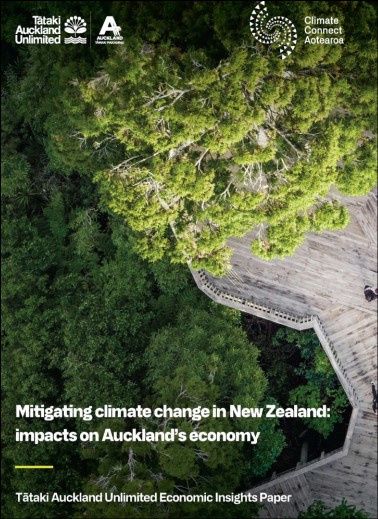 Author:
Tātaki Auckland Unlimited
Source:
Tātaki Auckland Unlimited
Topics:
Environment ,Economy
Extract:
The impact of climate change was felt through the extreme weather events of early 2023. However, the question remains: what are the future implications of climate change for Aotearoa New Zealand's economy?
According to the Ministry for the Environment (MfE) and The Treasury in the report Ngā Kōrero Āhuarangi Me Te Ōhanga: Climate Economic and Fiscal Assessment 2023, "the physical impact of climate change and the choices the country makes to transition to a low-emissions future will affect every aspect of the economy and society for generations."
While a diverse range of climate-related impacts are anticipated, this paper specifically considers the impact of proposed changes outlined by the Climate Change Commission (CCC) to meet New Zealand's global obligations to reduce emissions. It quantifies and compares the economic impact these proposed changes will have in Tāmaki Makaurau Auckland and throughout the rest of the country.
The employment insights shared in this paper also utilise CCC modelling, to consider some of the employment transitions that may become available as New Zealand adopts emissions reduction technologies.
However, as this macroeconomic model only looks at economic indicators, it does not model the wider, interconnected impacts of climate change on social, cultural and environmental wellbeing. Currently measures are predominantly focussed on gross domestic product (GDP) by necessity, as the primary global measure of economic 'success'.
By this measure alone, our economy will change, but the impacts on wider social, cultural and environmental wellbeing are missed. How we manage the transition and a shift to a more balanced, equitable and regenerative economy, will require us to consider all aspects of wellbeing, beyond GDP. ...
Tātaki Auckland Unlimited, September 2023
See also
The economic implications of national climate change mitigation strategies on the Auckland region. Summary