Erosion and sediment control guide for land disturbing activities in the Auckland region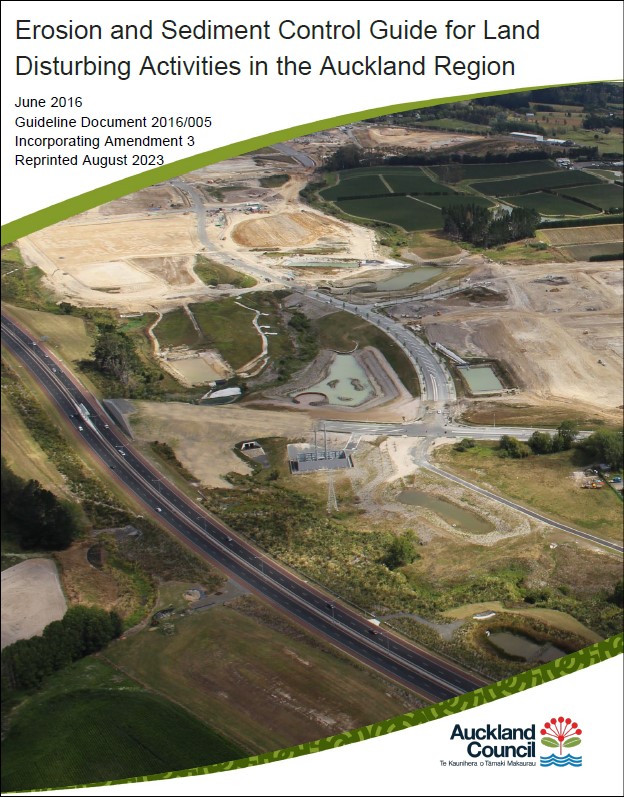 Author:
Hugh Leersnyder, Michael Parsonson, Kathleen Bunting, Campbell Stewart, Beca, SouthernSkies Environmental
What is the purpose and scope of this guideline?
This document, Erosion and Sediment Control Guide for Land Disturbing Activities in the Auckland Region, known as GD05, provides technical guidance for the selection, design and use of erosion and sediment control (ESC) practices and measures for land disturbing activities in an Auckland context.
As is explained in section A1.2, this guideline focuses on 'earthworks', where earthworks comprise:
Disturbance of soil/ground for activities such as residential, commercial or infrastructure developments, roads and utilities, and
Earthworks associated with quarrying (such as overburden disposal), and ancillary farming earthworks (excluding cultivation).
The primary intended audience for the guideline are designers and contractors/implementers, who construct, operate and maintain ESC measures as part of earthworks and other land disturbing activities at multiple scales. However, it also includes useful guidance for council consent processors and compliance officers, as well as developers and householders involved in earthworks activities. GD05 is an update of TP90 – Erosion and Sediment Control Guidelines for Land Disturbing Activities in the Auckland Region (1999, and 2007 update), and supersedes that guideline. The scope or objective of this guideline update was to provide a user friendly document that provides practical ESC methodologies and technologies that reflect the evolution of industry best practice and technological innovation. ...
Auckland Council Guideline Document GD2016/005, known as GD05
August 2023, incorporating amendment 3
See also