Enabling check, clean, dry compliance: a freshwater biosecurity behaviour change case study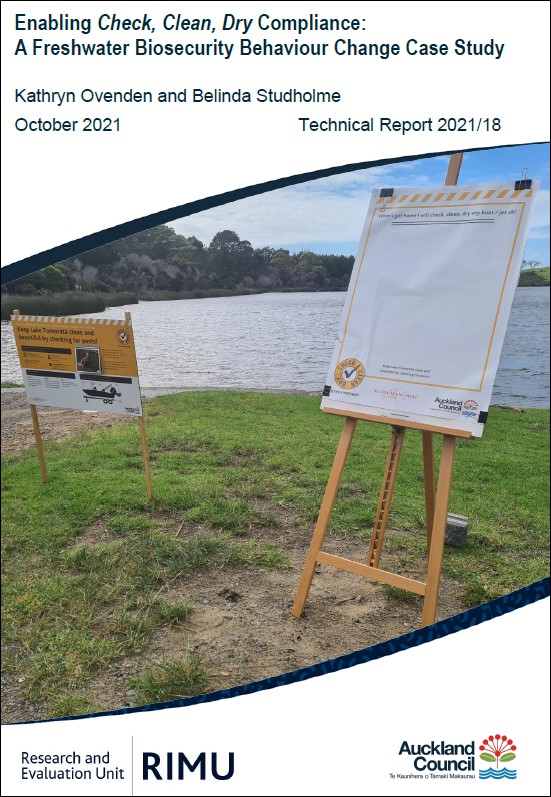 Author:
Kathryn Ovenden; Belinda Studholme
Source:
Auckland Council, Environmental Services
Executive summary
Lake Tomorātā* and Lake Rototoa are identified as priority sites to protect freshwater biodiversity values in Tāmaki Makaurau within the Regional Pest Management Plan (2020). Freshwater habitats can be disrupted by a range of pest plant and animal species that threaten our native species and diminish recreational enjoyment. Pests can be unintentionally spread between waterbodies by contaminated gear and vessels used by recreational freshwater visitors. A behaviour change workstream was initiated within the Auckland Council Environmental Services Unit to protect these lakes from the accidental introduction of pests. This workstream is part of Auckland Council's contribution to the national Freshwater Biosecurity Partnership Programme which delivers the Check, Clean, Dry campaign. This campaign aims to enable recreational freshwater visitors to reduce the
accidental spread of pests by removing pests from their gear and vessels.
The Environmental Services Unit's approach to behaviour change aims to be evidence-based. On initiation of this behaviour change workstream very little was known about visitors to the lakes. A mixed-methods survey of lake visitors (n=314) was undertaken in the summer of 2020 (January to March) to understand who was visiting the lake, the recreational activities undertaken, awareness of freshwater pests, and self-reported compliance with Check, Clean, Dry procedures. This survey found most visitors come to swim in family groups, close to half live locally, awareness of freshwater pests is low, half are aware of Check, Clean, Dry but, only a quarter claim to 'always' follow the procedures. The gear used for swimming is deemed unlikely to be contaminated with freshwater pests by the project team. The second most common activity at Lake Rototoa was kayaking (37%) followed by paddle boarding (10%). The second most common activity at Lake Tomorātā was motorboating (25%) followed by jet skiing (23%). The gear used in these activities are seen to pose a higher risk of spreading pests. These results were used to identify target audiences (kayakers and motorboaters) and behaviours at each lake for the development of behavioural interventions.
A suite of behavioural interventions was devised and five of these developed into prototypes through an iterative design process. The prototyped interventions include instructional signs, directional signs, commitment boards, a boat cleaning kit, and a kayak pest checking station. Over the summer of 2021 (February to April) these prototypes were tested at each lake through behavioural observations and intercept interviews. Observations recorded visitor engagement with interventions and interviews focused on visitors' interpretation and perceptions of interventions. The instructional signs and boat cleaning kit are promising interventions. Improvements to these interventions are recommended before delivery in the summer of 2022. Only one person visited the lake with a kayak during the testing period preventing a comprehensive evaluation. It appears kayaking is an activity undertaken earlier in the year and testing of the station could be repeated next summer. The commitment boards had little engagement with lake visitors and are not recommended to be pursued.
__________________________________
*The spelling of Lake Tomorātā used in this report is based on guidance from Ngāti Manuhiri and is different to the official spelling (Lake Tomarata) recorded by LINZ.
Auckland Council technical report, TR2021/18
October 2021