Conservation status of bats in Aotearoa New Zealand, 2022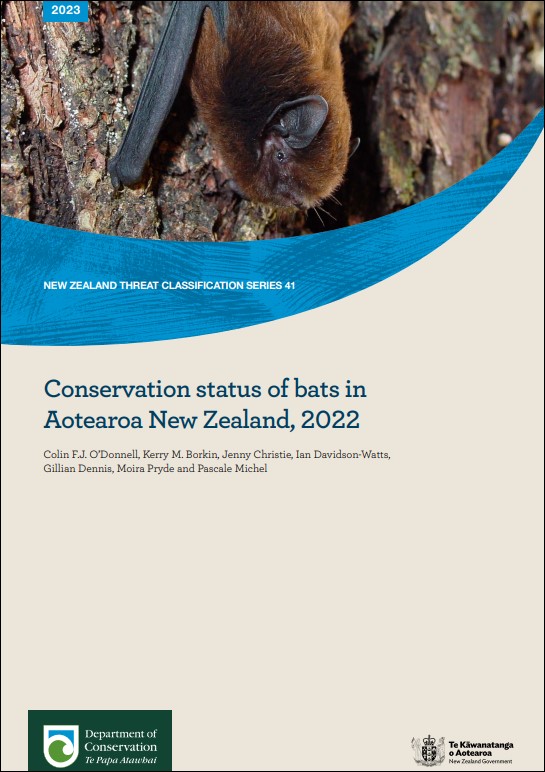 Author:
Colin F.J. O'Donnell, Kerry M. Borkin, Jenny Christie, Ian Davidson-Watts, Gillian Dennis, Moira Pryde, Pascale Michel
Source:
New Zealand Department of Conservation
Conservation status of bats in Aotearoa New Zealand, 2022
Summary
The conservation status of all six known taxa of bats in Aotearoa New Zealand was reassessed using the New Zealand Threat Classification System (NZTCS). A list of these taxa is presented, along with a statistical summary and notes on their current status. This list replaces all previous NZTCS lists for bats.
In total, three taxa were assessed as being Threatened, one as At Risk and one as Non-resident Native – Vagrant. One further taxon was assessed as Data Deficient (i.e. insufficient information is available to assess its conservation status). Aotearoa New Zealand has low natural bat diversity compared with other countries, and bats have also suffered considerable declines since humans arrived in the country. One species, the greater short-tailed bat (Mystacina robusta), has not been seen since 1967. Extant taxa are subject to similar threats, namely habitat loss, habitat degradation, disturbance and the impacts of introduced predators.
Recent studies have indicated that effective predator control can reverse these declines, at least in cool forests, although the number of bat habitats where intensive and effective predator control is being undertaken remains small. Furthermore, some threats are increasing in intensity, particularly as a result of increases in the scale and frequency of infrastructure projects in bat habitats, and climate change is an emerging threat that is likely to result in increased pressure from predators and changes in habitat quality
Department of Conservation, DOC, April 2023
See also
Conservation status of bat species in Tāmaki Makaurau / Auckland
Department of Conservation