Competing in times of challenge and change. Auckland economic and industry insights paper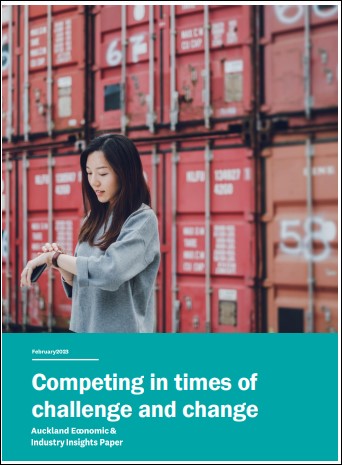 Author:
Tātaki Auckland Unlimited; John Lavery
Source:
Tātaki Auckland Unlimited
Extract
Global context
The last three years have seen significant disruption globally. Dominated by the C0VID-19 pandemic, which saw worldwide lockdowns and shocks to the global economy - and more latterly inflationary pressures fuelled by increasing demand and energy supply issues. These shocks have been underpinned by an ongoing shift in global geopolitics and the increased policy urgency about the response to climate change.
These factors are creating a different global economy to the one which emerged from the 2008 Global Financial Crisis. Singapore-based New Zealand economist David Skilling describes it as a different era of globalisation, not an unwinding, but a changing shape. Performing in this world will be much more demanding than in the relatively depoliticised global economy of the past few decades. Skilling highlights that 'increasingly government policy across multiple areas will be deeply shaped by this strategic competition, from macro policy to industrial policy and the net zero transition'.
This will create a more competitive environment globally. Countries and cities will compete for resources, talent and labour. While the war for talent is not a new phenomenon, with ongoing labour shortages, it will be more aggressive than ever as much of the developed world emerges into this reshaped global economy.
New Zealand's success, as a small, advanced economy is particularly aligned to the success of the global economy. As it continues to re-connect to the world following the period of lockdowns, it will navigate through this changing global environment.
Competition isn't new, but the role of cities - as representing more than half the global population, and as the centres of economic opportunity and dynamism in global competition - has become increasing important. Cities represent more than half of global economic output and as critical masses of population and industrial production, are the focus of net zero emissions policies.
Cities compete for talent, capital, trade and tourists and in the future will compete for the resources to achieve their net zero emissions goals. Auckland, in its journey to reconnect globally, will compete in an era of challenge and change. ...
Auckland's Future Now, Tātaki Auckland Unlimited
February 2023