Auckland water strategy annual report 2022/2023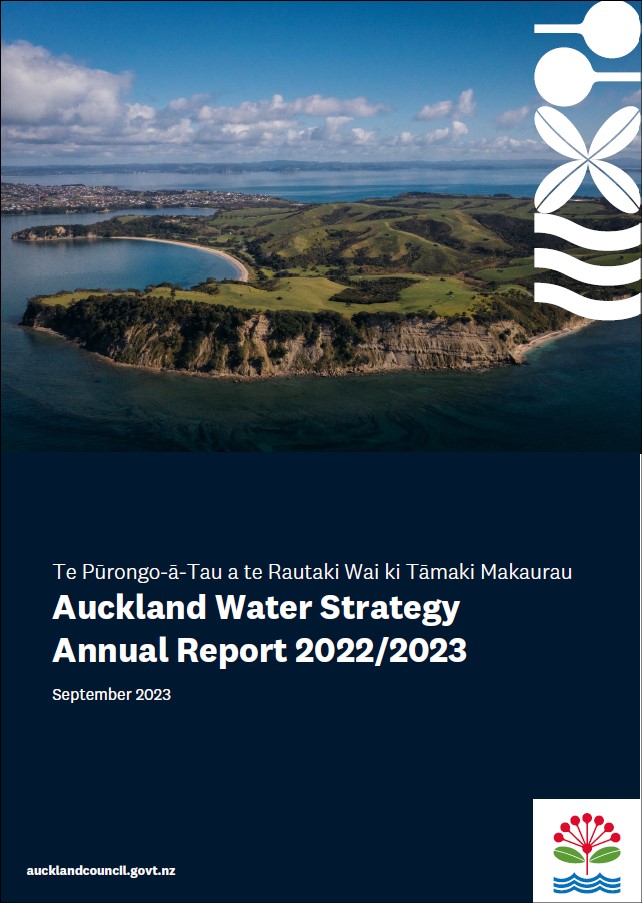 Te Pūrongo-ā-Tau a te Rautaki Wai ki Tāmaki Makaurau
Auckland Water Strategy Annual Report 2022/2023

About this report
This inaugural Annual Progress Report provides an update on the implementation of the Auckland Water Strategy (Strategy) in its first year of implementation over the period 1 July 2022-30 June 2023. It is intended for the governing body, Auckland Council staff, and the public to understand how the Strategy has driven council functions and activities related to water over the last year.
1. The Background section provides:
an overview of the Auckland Water Strategy
operating context for Year 1 of implementation (Year 1, 2022/2023)
engagement with mana whenua, and
alignment to significant policy and planning programmes.
2. The Evaluating Progress section provides a snapshot of implementation of the Auckland Water Strategy over its first year. This includes:
a summary of key progress in Year 1
a table summarising the status of Actions, including those scoped for implementation in Year 1, and
others that have been progressed in this year.
Additional details can be found in the Report's two Appendices:
Appendix 1: Detailed Strategic Shift and Action progress 2022/23 sets out the detailed implementation status of Strategic Shifts and individual Actions of the Strategy to be undertaken in Year 1.
Appendix 2: Alignment Opportunities 2022/23 provides a more detailed guide to alignment of the Strategy with regional and national instruments.
Auckland Council, September 2023
See also
Auckland water strategy 2022-2050
Auckland water strategy implementation plan 2022
List of Auckland water strategy supplementary documents:
Assessing the mauri of infrastructure and water
Investigation of barriers and opportunities to further implement water sensitive design in Auckland
Mauri-enhancing infrastructure case studies