Auckland's urban ngahere (forest) strategy. Te rautaki ngahere ā-tāone o Tāmaki Makaurau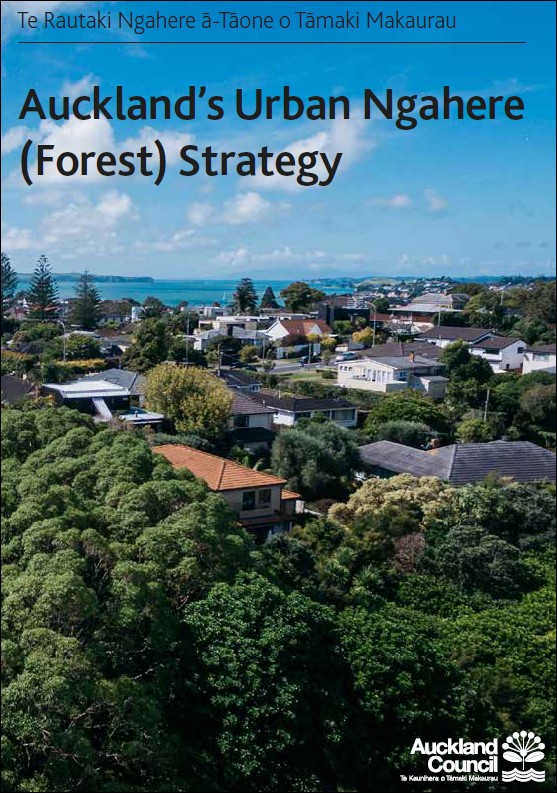 Extract
He mahere rautaki mō te ngahere ā-tāone o Tāmaki Makaurau. A strategic plan for Auckland's urban ngahere (forest)
When Tāne went to the heavens – so the story goes – he was enraptured by the tūī that lived in his brother Rehua's hair. Tāne desperately wanted to bring the tūī back to earth but he was told he must first plant trees to provide food. So Tāne introduced trees to our world and, three years later when the kahikatea blossomed, Tāne's wish came true. The tūī came to live with him.
When it comes to trees, the message is much the same. If we plant trees now, in time, we create value for our communities. We might even hear the dawn chorus – e kō i te ata – once again within urban Auckland.
Auckland is growing and changing rapidly. To accommodate this, Auckland Council has committed to a strategy of urban intensification to increase housing density, deliver the benefits associated with a compact urban form and limit the negative impacts linked with continued outward growth. Successful development requires careful planning; intensification and growth need to complement the protection and planting of trees and vegetation to create liveable neighbourhoods. Trees and vegetation also provide a range of services
required for Auckland to function and thrive. These include enhanced stormwater management, air pollution removal, improved water quality, cooling to reduce the urban heat island effect, and ecological corridors to connect habitats and improve biodiversity.
Our urban ngahere faces a number of pressures. Alongside the need for urban development, amendments to the Resource Management Act (RMA) came into effect in 2015, lifting blanket tree protection in urban areas. As a result, the vast majority of trees on private urban properties are no longer protected. Threats from pests and diseases, as well as the impacts of climate change are further challenges. If we want to continue to benefit from the services provided by our urban ngahere it is essential that we better understand its status and value and plan to protect and grow it. Our urban ngahere has the mauri (life force) to care for us but needs our help to be sustainable and healthy. ...
Auckland Council, March 2019
See also
Auckland Council website: