Auckland regional household labour force survey: quarterly overview as at March 2022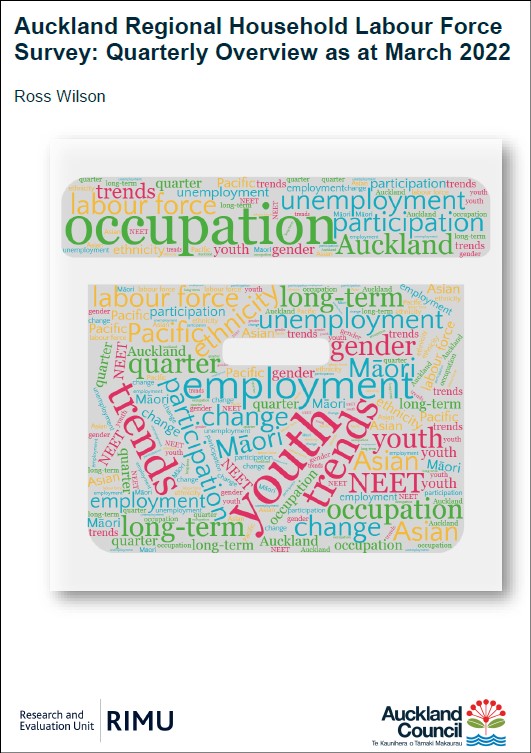 Source:
Auckland Council Research and Evaluation Unit, RIMU | Statistics New Zealand
An overview of labour force participation in Auckland, as indicated by results of Stats NZ's quarterly Household Labour Force Survey. HLFS
Overview and highlights
For the March 2022 quarter, compared to the preceding quarter (December 2021):
Auckland's unemployment rate was 3.6%, compared to 3.0% in December 2021. This represents Auckland's lowest March overall unemployment rate since 1988
The number of people who were unemployed had increased by 6300 to 35,600
A similar number of people were employed (945,900)
The number of people not in the labour force (NILF) was also similar at 383,900
At 71.9%, the labour force participation rate had not changed.
In addition:
The number of average weekly hours worked was 38.1 (including full and part-timers), similar to pre-Covid
The gap in numbers of hours worked per week between males (40.8) and females (34.9) was lower (5.9 hours) than at any time between 1994 and 2018
The rate of young people aged 15 to 24 not in employment, education or training (NEET) was 15.3%, above December (10.6%) and above the rest of New Zealand (13.0%), but similar to March 2021 (16.8%).
Over the year ended March 2022, compared to the year ended March 2021:
The unemployment rate averaged 3.4%, compared to 5.1% in the 12 months to March 2021 – constituting a reduction of one third
The unemployment rate for those aged 15 to 19 years averaged 16.2%, similar to the year before (18.4%)
The unemployment rate for females averaged 3.6%, a third lower than 5.5% a year prior. The rate for males averaged 3.4% (down from 4.7% a year prior), so the gap between males and females is currently minimal (0.2%)
Changes in the rates of unemployment varied between ethnic groups, with the largest decrease in the rate of unemployment being among Asians (nearly halving to 3.0%, from 5.3%)
Pacific people had the highest rate of unemployment at 6.9%, down from 8.6% the year before, and Māori had 6.6% (down from 8.0%)
The labour force participation rate averaged 71.8%, slightly above 2021 (70.0%).
The labour force participation rates for females (66.8%) and males (77.1%) were both slightly above a year prior (64.4% and 75.8% respectively)
Labour force participation rates rose from a year prior for all ages, especially 15-19 (42.4%, up 3.8% from 38.2%)
Labour force participation rates were slightly above a year prior for Pacific (to 63.5%) ethnicities and more so for Māori (67.7%), European (73.1%), and especially Asian (75.4%, a 2.6% rise).
Overview published May 2022.