Auckland economic update July 2023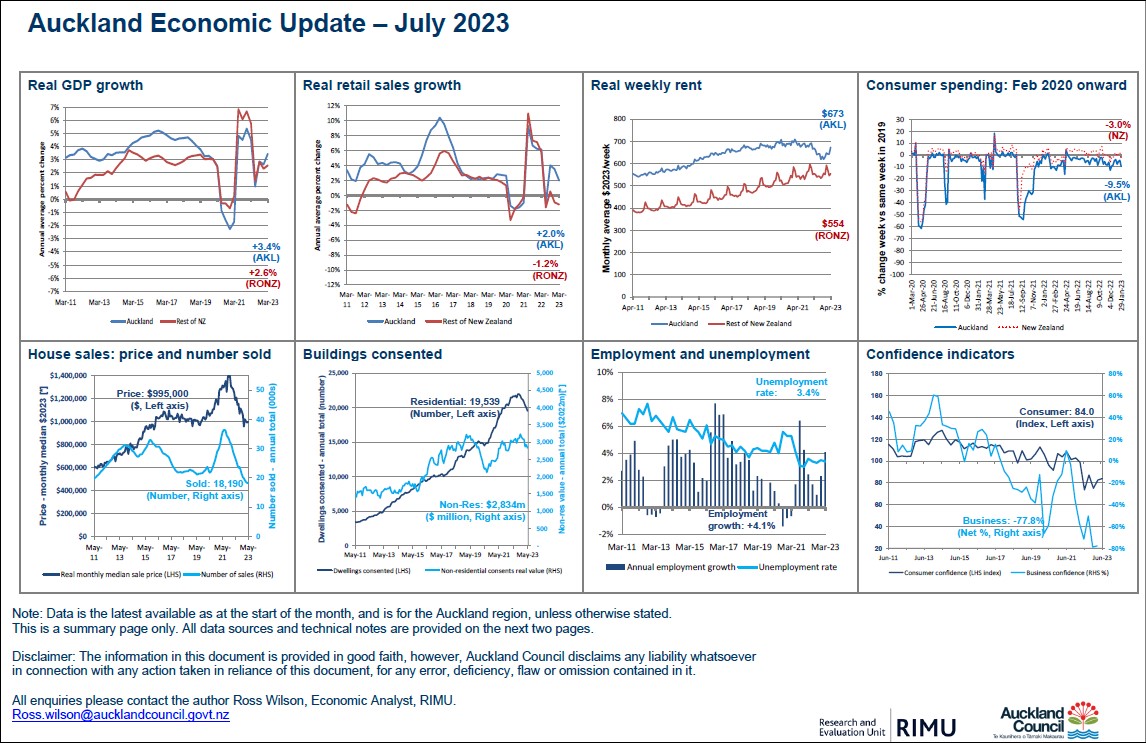 Source:
Auckland Council Research and Evaluation Unit, RIMU
An overview of the Auckland economy for July 2023, in charts and graphs and with some commentary.
Highlights this month include:
average weekly rent for April 2023 was $673 (0.5% higher in real* dollars than April 2022; similar to five years ago; 8.7% above November 2022 dip)
number of houses sold for the year ended May 2023 was 18,190, which was 32% lower than a year prior, and the lowest since 2009
median house price for the month of May 2023 was $995,000, which in real* dollars was: 16% lower than a year prior; 30% below the 2021 peak; similar to 2016
dwellings consented in the year ended May 2023 was 19,539 (10% lower than year ended May 2022, continuing the downtrend since September 2022)
non-residential consent value in the year ended May 2023 was $2,834 million in real* dollars (6% lower than year ended May 2022, and below most of 2022, but still above all of 2020 and most of 2021
consumer confidence in the June 2023 quarter was 84.0 – broadly similar to recent quarters, but still well below the levels from 1989 to 2021
other measures covered: GDP, retail sales, employment and unemployment, business and consumer confidence, house prices and numbers sold, weekly rents, building consents.
*Note: real dollars are after adjusting for the effects of inflation each quarter.
July 2023
---
Previous 2023 updates. There is no January 2023 update.
Selected 2022 updates