Auckland City Centre Advisory Board review, 2019-2022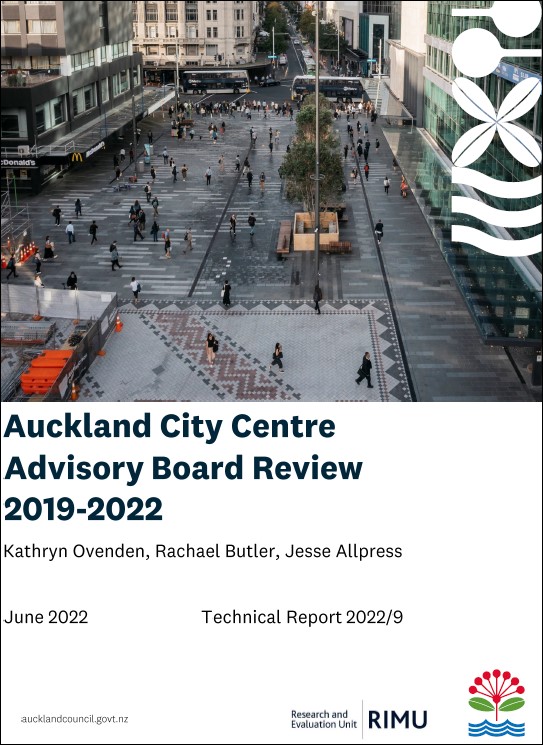 Author:
Kathryn Ovenden, Rachael Butler, Jesse Allpress
Source:
Auckland Council Research and Evaluation Unit, RIMU
The Auckland City Centre Advisory Board (ACCAB) advises Te Kaunihera o Tāmaki Makaurau / Auckland Council on the alignment of the City Centre Targeted Rate (CCTR) investment portfolio to the needs of the city centre. It also provides advice on the council's strategies, policies, plans, bylaws and programmes in relation to city centre development, and on key issues and opportunities to support city centre outcomes. It is one of several advisory panels at Auckland Council.
This review of ACCAB for the 2019-2022 local government electoral term focuses on outcomes achieved for the city centre and operations of the board. The review had three phases.
1. Engaging with stakeholders to inform them of the review approach and scope.
2. Interviews and focus groups with ACCAB members, council staff, and Te Poari ā-Rohe o Waitematā / Waitematā Local Board.
3. Developing recommendations through a series of workshops with stakeholders.
The review found that ACCAB is considered to be an important stakeholder group with potential to provide a valuable contribution to city centre outcomes. ACCAB members are seen by council staff to be passionate about the city centre, and staff are eager to engage with them as city centre stakeholders. However, this review identified some issues which have negatively impacted ACCAB's ability to provide value and to achieve outcomes this term.
Three contributing factors contextualise the findings of the review.
The COVID-19 pandemic has caused disruption for ACCAB's meetings and has impacted the issues being discussed (e.g. incorporation of physical distancing requirements in projects).
The programmes and issues on which ACCAB advises are complicated.
ACCAB members and council staff have diverse professional backgrounds and so may interpret terminology differently. Sometimes, this results in misunderstanding.
The review found there are mixed understandings and expectations surrounding fundamental aspects of ACCAB. There was consensus that the board's function was to 'advise', however, this was interpreted in diverse ways and has evolved over time. The scope of topics within ACCAB's remit was understood to be very broad by some participants, and not always accommodated by its membership (i.e. a scope inclusive of broad city centre issues, such as homelessness, without representation of such communities in ACCAB's membership). The level of advice provided by ACCAB was found to often be operational about specific projects, however, staff and some ACCAB members expected advice to be provided at a strategic level (e.g. long-term strategies, input at a programme level). The board's relationship with the Waitematā Local Board, and the role of elected members in ACCAB, was unclear for some participants.
The review found that defining the optimal membership mix for ACCAB was reliant upon clarity of its function and scope of overview. Overall, the membership is perceived to be of a high calibre, albeit socio-demographically homogenous. It could benefit from increased diversity.
Members receive minimal onboarding and access to training, have varied professional backgrounds and wide-ranging tenures as ACCAB members (ranging from a few months to over a decade). These differences result in varied abilities of members to perform their advisory role and to equitably participate in meetings. Providing comprehensive training and setting an appointment term could improve members' advisory capabilities and enable stronger participation.
Relationships were found to be generally positive between ACCAB members and between ACCAB members and staff.
Overall, meetings were found to be working well. A large staff resource investment in the coordination and management of ACCAB is contributing to high satisfaction amongst ACCAB members with how meetings are operating. Staff are involved in many pre-meeting activities (e.g. agenda setting and preparation of materials), facilitating meetings themselves, and post-meeting activities (e.g. disseminating minutes).
The role of the chair is critical to ACCAB's performance, through facilitating equitable participation in meetings and ensuring conversations are within scope. Performing the role of chair can be challenging for ACCAB members as it requires impartiality which, in practice, can prevent representing the perspectives of their stakeholders in discussions.
A series of interrelated recommendations have resulted from the review. Key recommendations include:
clarifying and communicating ACCAB's function, scope of topics, and level of advice
fostering the relationship between ACCAB and the Waitematā Local Board
filling gaps and increasing diversity in ACCAB's membership
providing comprehensive onboarding and ongoing training to ACCAB members
appointing an independent chair.
Auckland Council technical report, TR2022/9
June 2022