Auckland air quality report June 2023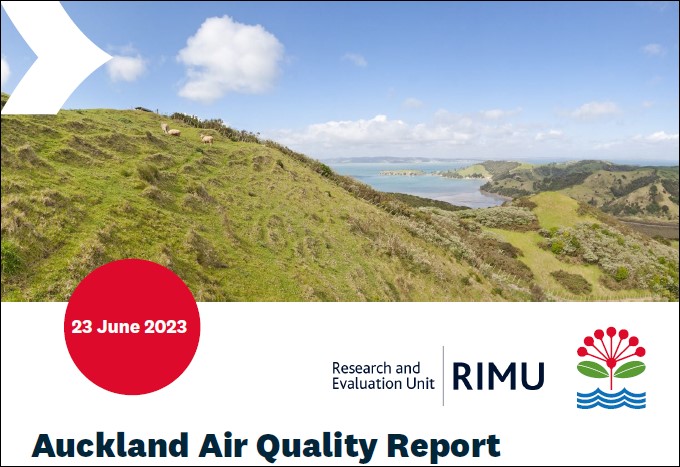 Author:
Louis Boamponsem, Auckland Council Research and Evaluation Unit, RIMU
Source:
Auckland Council Research and Evaluation Unit, RIMU
Extract:
Summary
As in the previous year, the highest concentrations of both PM10 and PM2.5 were recorded at the city centre air quality monitoring sites. The ongoing construction activities in the city centre (e.g., the City Rail Link project) is a primary factor.
As expected, the city centre sites have also recorded the highest levels of nitrogen dioxide (NO2) concentrations. The Queen Street city centre site recorded higher levels of NO2 in March, April and May, in contrast to the levels observed in the first two months of the year. This marks a deviation from the short-term downward trend in NO2 levels that have been observed at the city centre sites since January 2020. The exact cause for this shift is unclear and requires further investigation by RIMU to understand why.
There has been an increase in sulphur dioxide (SO2) levels at the two monitoring stations (Customs Street and Penrose), and the reason for this is unclear. Further studies are needed to determine the cause of this increase.
Significant event
On 31 May 2023, a large fire broke out at the Sims Metal scrapyard in Favona. This fire resulted in concerns regarding air quality in south and east Auckland. Particulate matter emissions from the fire were detected at three of our network monitoring stations: Glen Eden, Papatoetoe, and Pakuranga – each located at varying distances from the fire site. Data collected from these stations revealed a temporary significant increase in particulate matter levels. These elevated readings surpassed the levels recorded on the same day and month of the previous year, as well as the average levels observed over the past four to five years. Particulate matter levels returned to normal within 26 hours of the fire, and there was no exceedance of the National Air Quality Standards.
It is important to note that air quality at a monitoring site can vary from year to year due to weather and other influences. For a trend analysis of change, please see Table 2 and Auckland air quality report, October 2021. ...
*****
Where to view our data
Data can be viewed on the environmental data portal, LAWA or requested from environmentaldata@aucklandcouncil.govt.nz
Full state and trends analyses and reports are prepared every few years (the most recent report is Trends in Auckland's air quality 2006-2018).
The 2022 Annual data report is available on the Knowledge Auckland website.
See also, the frequently asked questions about the Auckland air quality monitoring programme.
Auckland Council, June 2023
---
Previous reports
2022 reports (selected)