An assessment of the Hauraki Gulf cable protection area, relative to the adjacent seafloor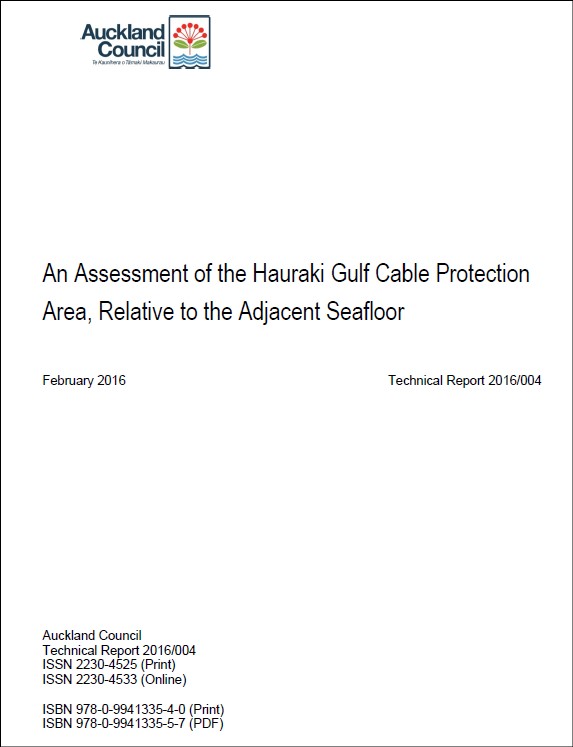 Author:
M A Morrison, I D Tuck, R B Taylor, A Miller, NIWA, Leigh Marine Laboratory
Source:
Auckland Council Research and Evaluation Unit, RIMU
The Hauraki Gulf Cable Protection Area (CPA) provides a corridor that extends from Takapuna Beach to west of the Mokohinau Islands, where it continues out to the 12 mile territorial sea limits. A towed camera array was used over a four-night survey to assess whether the CPA's ban on all fishing and anchoring provides protection for seafloor assemblages. Five blocks were surveyed in the mid to outer Hauraki Gulf, ranging in depth from 35m to 129m. Within each block two transects were run across the CPA boundary from each side. Each transect consisted of two 200m long sampling segments inside the CPA and two segments outside.
Visual counts were made of all of the epifauna and epiflora seen, including fish, nominally of 2cm or greater in size. The number of species and relative abundance of the invertebrate and fish species present were modest.
Univariate and multivariate statistical models were used to assess the relative influence of sampling block, depth, being east or west of the CPA centre line, the density of burrows, proportion of mud, and being inside or outside the CPA. For univariate measures, many of these factors were significant for assemblage level response variables (e.g. species richness and abundance), as well as for many individual species. However, the effects of block and depth were much stronger than that of CPA status, and in general effects were relatively modest. For multivariate measures, a similar pattern was seen, with CPA status accounting for only 1.4 per cent of the variability in invertebrate assemblages, and having no effect on the fish assemblages. Overall, the effect of the CPA was negligible.
Auckland Council technical report, TR2016/004
February 2016