Applying behavioural insights to increase uptake of a pest plant control service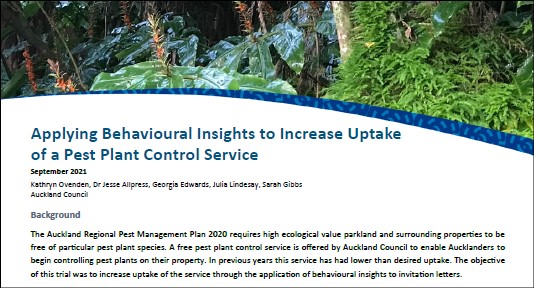 Author:
Kathryn Ovenden, Jesse Allpress, Georgia Edwards, Julia Lindesay, Sarah Gibbs
Source:
Auckland Council Research and Evaluation Unit, RIMU
Background
The Auckland Regional Pest Management Plan 2020 requires high ecological value parkland and surrounding properties to be free of particular pest plant species. A free pest plant control service is offered by Auckland Council to enable Aucklanders to begin controlling pest plants on their property. In previous years this service has had lower than desired uptake. The objective of this trial was to increase uptake of the service through the application of behavioural insights to invitation letters. ...
Auckland Council research note, September 2021
Appendix. Pest plant control service letter, four versions trialled
See also