A sustainable youth voice for Franklin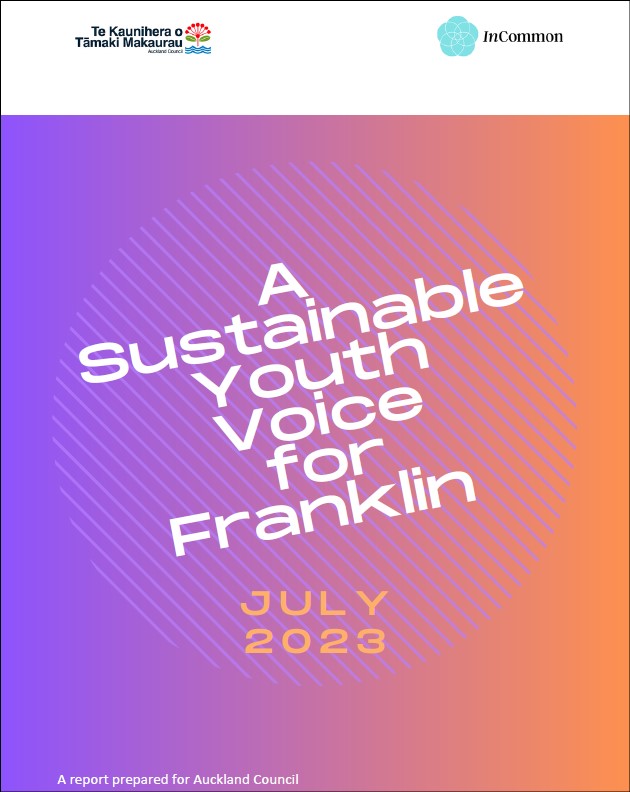 Author:
InCommon, Sarah Finlay-Robinson
Source:
Franklin Local Board, InCommon
Summary
This report presents an approach to youth voices that increases youth engagement across Franklin.
At the heart of this proposal lies the recognition of the invaluable contributions that young people make to our society. By providing a platform for their voices to be heard, we aspire to cultivate a dynamic and inclusive environment where their ideas, aspirations, and concerns are considered and acted upon.
This proposal outlines a comprehensive approach to fostering youth engagement, ensuring that Franklin becomes a place where young people are valued as key stakeholders and catalysts for positive change. Through strategic initiatives and partnerships, we aim to cultivate a culture that honours youth perspectives, facilitates their active involvement in decision-making processes, and paves the way for a more vibrant and equitable future for all.
Ten years after the establishment of the Franklin Youth Advisory Board, this report presents an opportunity to harness the immense potential of youth voices to create a stronger, more prosperous community for generations to come.
Franklin Local Board, July 2023.