Technical report. Western Springs pines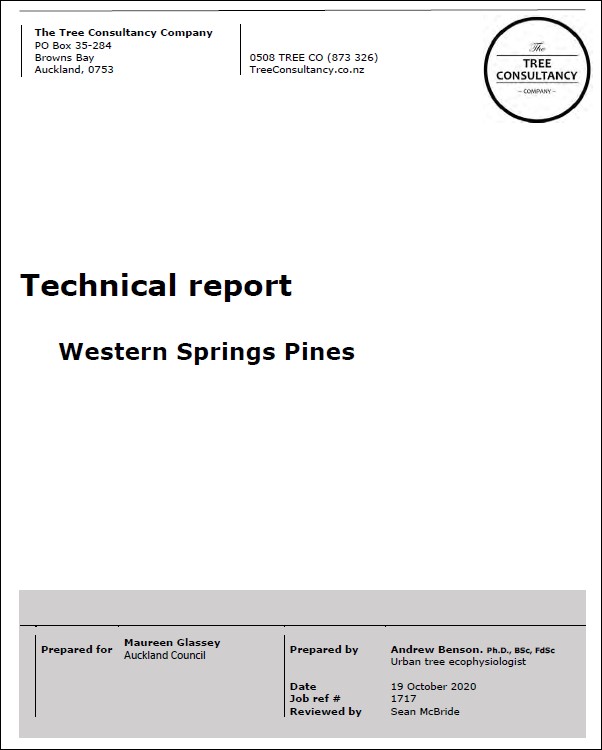 Author:
Andrew Benson, Tree Consultancy Company
Source:
Auckland Council | Tree Consultancy Company
Executive summary
One hundred and ninety-eight standing pine trees were assessed in Western Springs Forest between 21st September and 8th October 2020. Since 1988, the number of trees in the forest has been decreasing on average by 15 trees per year. Overall, the health of the forest is deteriorating. The trees are aging (97+ years old), and because of the species' known physiology and hydraulic limitation to growth, are now chronically predisposed to further decline. To estimate a remaining life span for the forest would involve a great deal of conjecture, which we prefer to avoid.
A mensuration exercise was undertaken to ascertain common tree parameters which can be used to provide an understanding of tree biomechanics, e.g. tree height to diameter ratios (H:D) and tree safety factors. The computed values for the sample distribution were then used to inform the range of inputs in a VALID tree risk assessment. The risk assessment considered the occupants of the public walking track during normal operation as the main 'target', as well as private properties and various structures (e.g. zoo and wastewater infrastructure). The VALID risk assessment produced:
141 'Acceptable' risks (71%)
6 'Tolerable' risks (3%)
50 'Not Tolerable' risks (25%)
1 'Not Acceptable' risks (1%)
Overall, the current risk to pedestrians using the walking track during normal operation is 'Unacceptable'. These risks are based on the current conditions and the current targets. Modelling wind patterns and future human behaviour are near impossible, which consequently produces a great deal of uncertainty about the risk of harm exposure to users of the forest in a possible future scenario where the 51 trees ('Not Tolerable' or 'Not Acceptable') are removed.
If the Waitematā Local Board's long-term strategic plan involves species transition from pine forest, to broadleaf-podocarp forest, then after considering all factors, and the advice of other specialists (ecology and forestry), the most pragmatic and economic way forward would be to remove all the pine trees in a single operation. If the Local Board wish to preserve the pine forest, then the risks to the public need to be managed in a meaningful way. This will undoubtably involve removing trees which produce 'Not Tolerable' or 'Not Acceptable' risks, as well as ongoing specialist investigations, e.g. regular risk assessments and / or restricting access to some or all of the forest.
October 2020