Perceptions of living in Auckland's city centre: 2022 survey of residents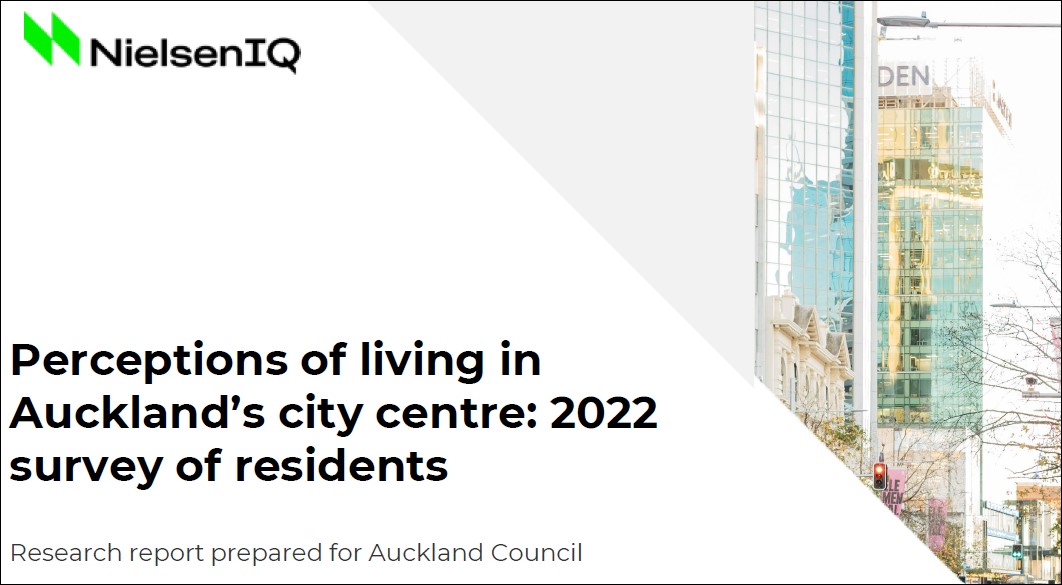 Source:
NielsenIQ | Auckland Council Research and Evaluation Unit, RIMU
A research report prepared by NielsenIQ for Auckland Council.
Extracts
Introduction
Objectives
The overall objective of this survey was to provide an updated understanding of residents' experiences of living in the inner city.
Areas of investigation included:
Reasons for living in the city centre
Likelihood of living in the city centre in 12 months' time
Perceptions of inner city living, including sense of community, ease of living, affordability, child friendliness
Satisfaction with different aspects of inner city living, including safety and security, ease of moving around the area, and cleanliness
Impacts of Covid-19 and ongoing construction on residents' lived experience
Suggestions for improving the city centre. ...
Key findings (extract)
Living in the city centre
While just over half (55%) of respondents said they like living in the city centre, one in three (34%) said they dislike it.
Perceptions of living in the city centre were more positive among those living in the Viaduct / Wynyard Quarter and the Karangahape Road / Greys Avenue zone, and least positive among those in the Hobson Street /Victoria Park zone.
Accessibility to amenities was the main reason for living in the city centre (particularly proximity to shops and restaurants, and to work places, for those of working age). Proximity to entertainment was a factor for just under half.
For under 25 year olds, proximity to study was important, along with the reduced need for a vehicle. ...
Auckland Council, NielsenIQ, January 2023
See also
Perceptions of living in Auckland's city centre: 2022 residents' survey technical report